24 Sep
That's how many strings a pedal steel has, right? We never did fully comprehend the complexities of that thing — any of us but Tom, that is. And the rumors are true: Tom is moving on this autumn to big and bright futures outside of These United States. It's nothing terribly tabloid-worthy or dramatic (we still haven't mastered the Early Career Headline Grab). Just a good time for him to do so, with some pretty amazing opportunities on the horizon. He'll be touring with our dear pals The Mynabirds this fall, working with producer extraordinaire Duane Lundy at Shangri-La in Lexington, and getting out from behind the pedal steel again for some good old-fashioned picking and sinning on Vandaveer's upcoming murder ballads release.
As anyone knows who lent us a floor or a boat or a trailer or a desert sky to sleep on, Tom was my most consistent collaborator in TUS over the last 7 years, 5 albums, almost 1,000 shows. He'll be missed hugely, by all of
us, personally and musically. For me, it was the talents that people didn't get to see as often that I'll miss most, his creative force outside the context of the pedal steel and electric guitar (we all know he's a master of those): piano, banjo, dobro, truck stop windshield squeegee — hell, he even arranged a horn section for a B-side from the new album. We'll find a way to get that and some other little TUS nuggets out into the world later this year (more on that soon), but for the time being I felt it appropriate to pay tribute in the simplest, most direct way possible, with a one-off tune from a rainy afternoon in Pennsylvania, just me & Tom.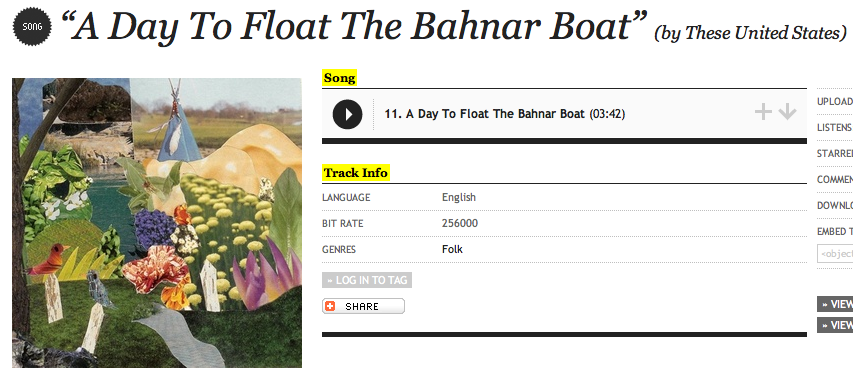 –jesse
p.s. Oh, yeah, and if anyone tries to tell you it was anything but awesome sound & fury right up til Tom's departure, just show them this picture from Columbia, MO, last Saturday night, and ask them to keep an eye out for my upcoming piece in the Onion, "Wild Llama Rages Across These United States, Leaving Trail of Destruction and Hot, Hot Licks."